In today's world, love transcends all boundaries, including those of gender and identity. This heartwarming tale of a trans-woman and her husband showcases the resilience and beauty of love and the powerful role that platforms like My Transgender Cupid can play in bringing people together.
The Journey of a Trans-woman
Finding Her True Self
Mica, a strong, independent trans-woman, had spent most of her life grappling with her gender identity. After years of introspection and self-discovery, she finally embraced her true self and began her journey as a proud and confident trans-woman.
Overcoming Challenges
Transitioning wasn't easy for Mica. She faced numerous challenges, from discrimination to personal struggles. However, with courage and determination, she overcame these hurdles, building a life she was proud of.
The Struggles of Finding Love
Prejudices and Stereotypes
Despite her personal accomplishments, Mica found that finding love as a trans-woman was fraught with difficulties. She encountered many people who held prejudiced views about transgender individuals, leading to hurtful and disheartening experiences.
Limited Dating Options
Traditional dating platforms often failed to cater to the unique needs and challenges faced by trans individuals. It was challenging for Mica to find a space where she could feel comfortable and confident in her pursuit of love.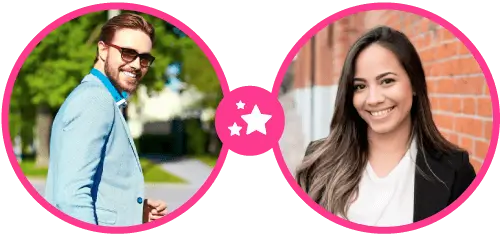 My Transgender Cupid: A Platform for Love
Features and Benefits
When Mica discovered My Transgender Cupid, she found a platform specifically designed for transgender individuals and those who wanted to date them. With its user-friendly interface and supportive community, it offered a safe space for her to find love without fear of prejudice or discrimination.
Success Stories
Mica was inspired by the many success stories of trans individuals who had found love through My Transgender Cupid. Encouraged by their experiences, she decided to give the platform a try.
The Meeting of Two Souls
Mica's Profile:
Mica created her profile on My Transgender Cupid, showcasing her interests, hobbies, and her journey as a trans-woman. She hoped to find someone who would understand and appreciate her for who she was.
Kevin's Profile:
Kevin, a kind and open-minded man, had also signed up on My Transgender Cupid, looking for a genuine connection. When he stumbled upon Mica's profile, he was immediately drawn to her story and her vibrant personality.
The Connection
Kevin reached out to Mica, and the two quickly discovered they had a strong connection. They spent hours chatting, getting to know each other, and sharing their experiences.
Building a Relationship and first dates
After several weeks of engaging conversations, Mica and Kevin decided to meet in person. They chose a cozy café for their first date, where they spent hours talking, laughing, and discovering even more shared interests. It felt like they had known each other for years, and they both knew they had something special.
Common Interests
As Mica and Kevin continued to date, they found that they had many common interests, from hiking and exploring nature to enjoying live music and trying out new cuisines. These shared passions helped to strengthen their bond and deepen their connection.
Meeting Family and Friends
Introducing each other to their families and friends was a significant step in their relationship. While some people were initially skeptical, Mica and Kevin's genuine love for each other soon won everyone over, and they found themselves surrounded by a supportive network of loved ones.
Marriage: A New Chapter – The Proposal
After a year of dating, Kevin knew he wanted to spend the rest of his life with Mica.
He planned a romantic weekend getaway and proposed to her on a moonlit beach, surrounded by the sounds of the crashing waves.
Overwhelmed with joy, Mica said yes, and they began planning their future together.
Wedding Planning
Mica and Kevin dove headfirst into wedding planning, choosing a beautiful venue, picking out the perfect outfits, and carefully selecting every detail of their special day. With the support of their loved ones, they created a celebration that was uniquely theirs.
The Big Day
Finally, the day arrived, and Mica and Kevin exchanged vows in front of their family and friends. The love and happiness that filled the room were undeniable, and everyone could see that these two souls were meant to be together.
Facing Challenges Together and Addressing Discrimination
Even after their marriage, Mica and Kevin faced some discrimination due to Mica being a trans-woman. However, they always tackled these challenges together, relying on their love and mutual respect to overcome any obstacles.
Supporting Each Other
Mica and Kevin's relationship was built on a foundation of trust, understanding, and support. They were always there for each other, lifting each other up during difficult times and celebrating their successes together.
A Lasting Love Story
Now two years later, Mica and Kevin's love story continues to flourish. Their journey has not been without its challenges, but their unbreakable bond and unwavering commitment to one another have seen them through.
Conclusion
The story of Mica and Kevin is a testament to the power of love and the importance of Trans dating platforms like My Transgender Cupid in helping people find their soulmates. Love knows no boundaries, and when two people come together with open hearts and minds, they can create a beautiful and lasting connection.
Common Questions about Transgender Dating and My Transgender Cupid
Love knows no bounds, and we understand that you may have some questions about finding love as a trans individual or about My Transgender Cupid. We've gathered some frequently asked questions to provide you with the answers you're looking for.
My Transgender Cupid is a dating platform specifically designed for transgender individuals and those who want to date them, providing a safe and supportive space for finding love.
To create a profile, simply visit the My Transgender Cupid website, sign up with your email address, and fill out your profile information, including interests, hobbies, and a brief description of yourself.
To increase your chances of finding a match, make sure to fill out your profile in detail, upload high-quality photos, and actively engage with other users on the platform. Be open, honest, and genuine in your interactions.