Are you looking for a night out in the UK's LGBTQ+ scene? Whether you're new to the community or a long-time member, there is always an exciting range of trans-friendly clubs and bars to discover! From Soho's iconic venues to hidden gems across London and beyond, we've rounded up the best of the best to help you plan your next night out. In this post, we'll explore what makes these venues so special and why they deserve a place on your must-visit list. Get ready for a journey through some of the most lively, inclusive nightlife spaces and best trans-friendly clubs in the United Kingdom in 2023!
Key Takeaways
The UK's LGBTQ+ nightlife scene offers a diverse and vibrant range of trans-friendly clubs and gay bars across major cities like London, Manchester, Birmingham, and Edinburgh.
Soho's iconic venues are an integral component of London's queer scene with popular spots such as G-A-Y Bar, Ku Bar, Comptons, Dalston Superstore, and Heaven nightclub providing inclusive spaces for everyone to enjoy.
Other notable establishments in the UK include The White Swan and Friendly Society in Limehouse (East London), and The Royal Vauxhall Tavern by the river Thames in South London; whilst also celebrating east London hotspots such as The Cock Tavern and heading back to Soho's multi-level venue of Ku Bar. These incredible venues offer safe spaces with dedicated events tailored towards fostering inclusivity within the thriving LGBTQ+ community.
Understanding The UK's LGBTQ+ Nightlife
The United Kingdom has long been a hub for the LGBTQ+ community, offering an incredibly diverse and vibrant nightlife to cater to people from all walks of life.
One of the key features that make the UK's LGBTQ+ nightlife stand out is its variety – from gay bars where you can enjoy a relaxed drink with friends and friendly staff to lively clubs with talented DJs and spacious dance floors filled with smiling faces.
A prime example is Soho; located at the heart of London, it boasts numerous venues leading London's gay bar scene such as G-A-Y Bar, Ku Bar, Comptons - which are always busy on weekends and especially during the annual Pride Festival.
Other popular spots include Dalston Superstore in East London (a cafe by day), Heaven nightclub (hosting regular G-A-Y themed nights), The Duke of Wellington pub (perfect for sports fans), and Liverpool's Stanley Street Quarter known for its rich history since the Victorian era.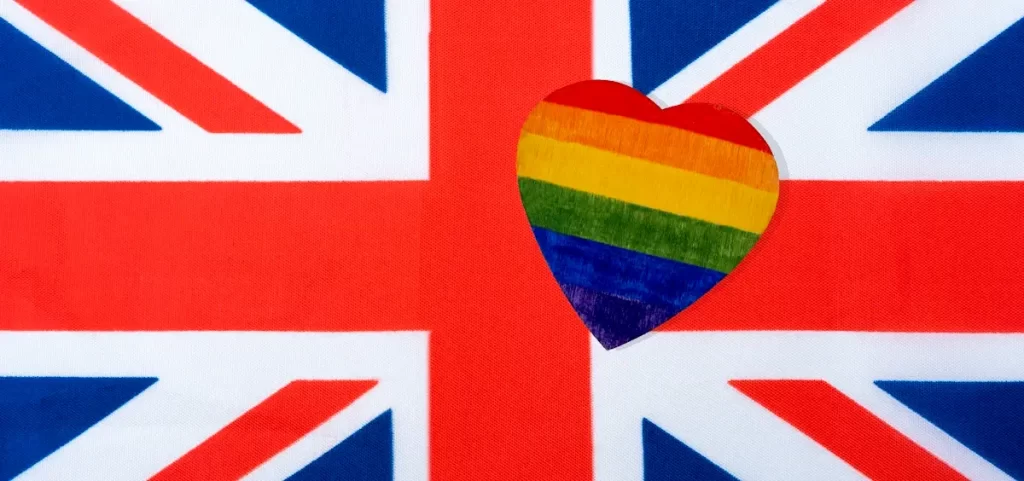 Exploring The Club Culture: Gay Bars And Trans-friendly Hubs
Discover the unique features that make LGBTQ+ clubs in the UK stand out and explore some of the best trans-friendly hubs for a night out.
Unveiling The Unique Features Of LGBTQ+ Clubs
Diving into the world of LGBTQ+ clubs, one can't help but be captivated by their unique features and welcoming atmosphere. These clubs have been thoughtfully designed to cater to the diverse tastes and preferences of the LGBTQ+ community, providing a fun-filled space for all to enjoy.
Take London's illustrious Heaven Club as an example; with multiple floors, incredible light shows, G-A-Y nights; drag acts — it has everything you could desire in a thrilling night out.
Alternatively, we have Ku Bar nestled amongst Soho's colorful streets—boasting three floors that accommodate over 500 people—making it one of London's largest gay bars.
The presence of themed nights and exceptional live performances are just some treasures waiting to be discovered within these remarkable venues' walls.
Pro Tip:
While exploring the diverse club culture of the UK, it's important to ensure your experience is both fun and safe. That's why you should check out our Trans Dating Safety Tips for useful advice to help you navigate the dating scene.
The Colourful Palette Of Soho's LGBTQ+-friendly Bars And Pubs
Soho's vibrant LGBTQ+ scene is renowned for its colorful palette of bars and pubs, each with its unique character and charm - from the retro-inspired decor of Village to the sophisticated ambiance of Freedom Bar.
💡Read Next: Trans Dating UK 2023: Meet Your Transgender Date In The United Kingdom
The Charismatic Influence Of Soho's LGBTQ+ Establishments
The charismatic influence of Soho's LGBTQ+ establishments is undeniably massive in shaping the UK's queer scene into what it is today. Steeped in history and character, these venues have become integral components of London's vibrant nightlife.
When you stroll around this eclectic neighborhood, you'll be captivated by its artistic flair and pulsating energy that resonates from clubs like G-A-Y Bar and Ku Bar.
These colorful hubs also foster creativity, evident through their special events like drag shows, cabaret performances, or even indie movie screenings at the Kings Arms Soho.
With their involvement in promoting diverse local talents – from DJs to burlesque dancers – these LGBTQ+ havens stand proud as places where people can genuinely express themselves without fear or prejudice.
Immerse yourself into a night out at Comptons or Village; soak up the sights and sounds while enjoying well-crafted cocktails amongst friends old and new.
Setting The Scene: G-A-Y Bar And Its Impact On LGBTQ+ Nightlife
G-A-Y Bar has been a staple of London's LGBTQ+ scene for over 25 years, with iconic drag performances and themed nights that have become legendary.
Behind The Popularity Of The G-A-Y Bar
G-A-Y Bar, nestled on the bustling Old Compton Street in Soho, has become a staple of London's LGBTQ+ nightlife and boasts an impressive list of reasons for its immense popularity.
One major factor that sets this iconic venue apart from others is the incredible variety of live music acts and DJ nights it hosts consistently.
Another aspect contributing to G-A-Y Bar's success lies in its welcoming environment which attracts individuals from all walks of life. The bar staff are known for being attentive and friendly, ensuring everyone feels comfortable whilst enjoying their time at this legendary establishment.
Moreover, patrons get more than just great entertainment as they can also venture over to G-A-Y Late located around the corner in Goslett Yard for a euphoric late-night party experience.
Pro Tip:
G-A-Y Bar has certainly made an impact on the LGBTQ+ nightlife, but what about those stepping into this scene for the first time? Our blog, Dating a Trans Woman for the First Time, offers insightful tips for newcomers to this exciting world.
The Unmissable Limehouse Attractions: The White Swan And Friendly Society
Discover the hidden gems of Limehouse's LGBTQ+ scene with The White Swan and Friendly Society, two popular trans-friendly clubs that offer a warm and inclusive atmosphere for all.
A Look At Limehouse's Most Popular LGBTQ+ Venues
Limehouse, located in the East End of London, is home to some of the most popular LGBTQ+ venues in the city. The White Swan and Friendly Society are two well-known establishments that offer a safe space for all members of the community.
The White Swan is one of London's oldest gay bars and boasts vibrant decor - think rainbow flags and disco balls. It has regular themed nights such as bingo and karaoke, attracting a diverse audience from all over the city.
Meanwhile, Friendly Society offers a relaxed atmosphere where patrons can enjoy drinks with friends or participate in events like cabaret shows or pub quizzes.
The Disco And Karaoke Phenomenon In LGBTQ+ Nightlife
Discover the appeal of disco and karaoke in LGBTQ+ culture, as we explore some of the best venues in the UK for these party staples.
The Appeal Of Disco And Karaoke In LGBTQ+ Culture
Disco and karaoke nights have long been popular events in the United Kingdom's LGBTQ+ nightlife scene. These events provide a space for individuals to express themselves while having fun with friends and other members of the community.
Disco music has been a staple in LGBTQ+ culture since the 1970s when discotheques became safe spaces for people who were not welcome in mainstream bars and clubs.
Karaoke is another beloved event within the community that encourages self-expression through performance. It provides an inclusive platform for everyone, regardless of singing ability or gender identity, to showcase their talent or simply have fun with friends.
Pride Of East London: Dalston Superstore And The Cock Tavern
Dalston Superstore is a bustling cafe-cum-bar by day and an energetic LGBTQ+ club by night, boasting live drag shows and guest performances. On the other hand, The Cock Tavern is a cozy pub with friendly staff that transforms into an intimate cabaret venue in the evenings.
It's definitely worth checking out these two popular East London hotspots for some queer fun.
Delving Into East London's Favourite Gay Bars
Our exploration of the UK's best gay bars and trans-friendly clubs wouldn't be complete without highlighting East London's favorite LGBTQ+ haunts. Dalston Superstore is a must-visit with its vibrant atmosphere, charming cafe, and buzzing nightlife.
It offers something for everyone - from DJs spinning eclectic beats to drag performers putting on memorable shows.
Another popular spot in east London is The Cock Tavern, a traditional pub with an alternative twist that makes it stand out. It boasts weekly cabaret performances from some of the city's most talented queens and kings, making it a destination for anyone seeking something more than just another pint.
The LGBTQ+ Oasis In Vauxhall: The Royal Vauxhall Tavern
The iconic Royal Vauxhall Tavern is a long-standing institution in the LGBTQ+ community, known for its diverse programming of drag shows, cabarets, and live music events.
The Iconic Royal Vauxhall Tavern: A Closer Look
The Royal Vauxhall Tavern is a true institution in the south London gay scene. It's an iconic venue with a rich history, having hosted some of the biggest names in drag and cabaret over the years.
The tavern hosts regular events and club nights, ranging from themed parties to live music performances. With its retro decor and friendly atmosphere, it's no wonder that the Royal Vauxhall Tavern has become a popular spot for locals and visitors alike.
Ku Bar: The Vibrant Pulse Of Soho's Gay Scene
Ku Bar, located near Leicester Square, is the beating heart of Soho's gay scene with its extravagant decor, expertly crafted cocktails, and thumping dancefloor that will keep you partying until dawn.
Exploring The Charm Of Ku Bar
We cannot talk about Soho's gay scene without mentioning Ku Bar. Located just a stone throw away from Leicester Square, the multi-level venue boasts one of the largest dance floors in London and one of the most vibrant atmospheres in town.
With its stylish decor and modern lighting, Ku Bar attracts an eclectic crowd ranging from students to professionals looking for a lively night out.
Ku Bar is renowned for hosting premier DJ sets and live performances that attract some of the biggest music names in the industry. Also, drag queens frequently grace its stage with their amusing cabaret shows that leave patrons wanting more.
The Wayout Club: Pioneering Trans-friendly Entertainment
The Wayout Club is a legendary club that has been entertaining trans and queer people for more than 25 years, featuring talented DJs, live acts, gogo dancers, and an inclusive, cozy atmosphere that celebrates diversity.
What Makes The Wayout Club Stand Out?
The Wayout Club is one of the most unique and welcoming LGBT venues in London, if not the UK.
What sets it apart from other gay bars and clubs is its commitment to offering a safe and inclusive environment for all patrons, particularly trans individuals, who often face discrimination in traditional club settings.
The club's 20-year history has been marked by an unwavering dedication to creating a space that promotes diversity and inclusivity through programming that includes live music, comedy, cabaret shows featuring drag queens and kings, burlesque performances from around the world, as well as DJs spinning tunes on multiple dancefloors throughout the night.
The venue also boasts strong security measures with round-the-clock surveillance cameras trained on all parts of the club to ensure safety for everyone in attendance.
The team behind the Wayout-Club and friendly staff and attentive security personnel are always on hand to make sure that you feel welcome at every turn.
Pro Tip:
When discussing the pioneering trans-friendly entertainment at The Wayout Club, it's worth celebrating the joy and beauty of trans women in relationships. For heartwarming stories and empowering discussions, don't miss our blog post Celebrating Trans Women in Relationships.
Clapham's Pride: The Two Brewers And Its Diverse LGBTQ+ Audience
Two Brewers is a renowned gay bar located in lively Clapham that offers some of London's best drag and LGBTQ+ cabaret acts, making it a must-visit for anyone looking to experience the vibrant diversity of the UK's LGBTQ nightlife scene - read on to discover more!
Discovering The Two Brewers: A Staple Of Clapham's Gay Scene
If you're on the lookout for a classic gay bar in Clapham, The Two Brewers is an absolute must-visit. This renowned spot has been a staple of Clapham's LGBTQ+ scene for years now and it's not hard to see why.
With regular events that include comedy, cabaret, burlesque, live music, and DJs, there really is something for everyone here.
The Two Brewers' reputation as a top venue for drag and LGBTQ+ cabaret acts precedes it - it's even associated with Clapham's Pride! But what sets this place apart from other spots in the area is its dedication to providing a safe space where everyone can come together and have fun.
A Look Into Trans-friendly Entertainment: She World And The Karaoke Hole
Discover the exciting world of trans-friendly entertainment with She World and The Karaoke Hole - two venues that offer inclusive and welcoming spaces for all members of the LGBTQ+ community.
Spotlight On Trans Inclusivity: She World And The Karaoke Hole
We cannot talk about the best trans-friendly entertainment venues in London without mentioning She World and The Karaoke Hole.
These two spots have quickly gained popularity for offering a safe and inclusive space for trans individuals to party and express themselves freely.
At She World, you can enjoy some fantastic cabaret performances from talented trans artists while sipping on your favorite drinks.
Both venues have been praised for their supportive staff who always go above and beyond to ensure everyone is comfortable and having fun.
The Retro Bar Phenomenon In The UK's Gay Bar Scene
Get ready to transport yourself back in time with the retro bar phenomenon taking over UK's gay bar scene, from groovy 70s-themed bars to neon-lit 80s-inspired venues. Discover why these throwback establishments are making a comeback and which ones you can't miss on your next night out.
Why Retro Bars Are Making A Comeback In The LGBTQ+ Scene
We can't deny the growing popularity of retro bars in the UK's LGBTQ+ scene. These establishments offer a nostalgic throwback to past decades with vintage decor, classic cocktails, and retro music.
They also provide a safe space for diverse groups within the LGBTQ+ community to socialize and celebrate their unique identities. Retro bars often attract patrons seeking an escape from modern-day life and political issues surrounding sexuality and gender identity.
The re-emergence of retro bars has paved the way for new forms of entertainment that appeal to an older generation as well as younger individuals looking for something different.
One example is Horse Meat Disco in East London, which combines disco classics with contemporary dance hits, providing a fun night out while championing inclusivity and diversity.
Horse Meat Disco And Queen Adelaide: East London's Gay Scene Essentials
Horse Meat Disco and Queen Adelaide are two essential destinations for anyone exploring London's vibrant LGBTQ+ scene in the east end.
The Irresistible Lure Of Horse Meat Disco And Queen Adelaide
Horse Meat Disco and Queen Adelaide are two of the most iconic LGBTQ+ venues in East London.
The former is a popular disco that has been playing classic disco, house, and soul music for over a decade, while the latter is a lively pub with an inclusive atmosphere and regular drag performances.
Horse Meat Disco draws crowds from all over London every Sunday night to dance under its glittering disco ball, as well as occasional special events at other times throughout the year.
Meanwhile, Queen Adelaide offers something for everyone with its wide-ranging menu of drinks and food options alongside its vibrant entertainment line-up.
A Review: Why Are These The Best Gay Bars And Trans-friendly Clubs In The UK?
Discover the defining factors that make these LGBTQ+ venues stand out and why they're considered the best in the UK. From Soho's iconic establishments to East London's vibrant hubs, this review delves into what makes these gay bars and trans-friendly clubs a must-visit for any party-goer looking for an inclusive and unforgettable experience.
Pro Tip:
As we wrap up our review of the UK's best gay bars and trans-friendly clubs, remember that these establishments thrive on respect and understanding. Be sure to visit our Transgender Dating Guide to ensure a positive and enjoyable experience.
Breaking Down The Factors That Define The Best LGBTQ+ Nightlife
As we explored the vibrant scene of the UK's best gay bars and trans-friendly clubs, we broke down the factors that define the best LGBTQ+ nightlife. Firstly, it is about inclusivity - a great night out should be accessible to everyone regardless of their gender identity or sexuality.
Secondly, entertainment plays a crucial role in creating an unforgettable experience. From drag shows to themed parties, karaoke nights to disco extravaganzas – there is something for everyone's taste.
💡Read Next: The Best Trans-Friendly and Top Gay Bars in The US
15 Conclusion: Celebrating The Diversity Of The UK's Gay Bars And Trans-friendly Clubs
In conclusion, the UK's LGBTQ+ nightlife scene is thriving with a wide range of trans-friendly clubs and gay bars that cater to every taste. There are iconic venues like G-A-Y Bar, Horse Meat Disco, and Royal Vauxhall Tavern, as well as hidden gems like She World and The Karaoke Hole that offer unique trans-inclusive experiences.
From Soho's colorful palette to Clapham's pride, these LGBTQ+ oases provide safe spaces for people from all walks of life to express themselves and connect with others in their community.
Reflecting On The Importance Of Inclusive Nightlife
As we come to the end of our journey exploring the best trans-friendly clubs and gay bars in the United Kingdom, it's worth reflecting on why inclusive nightlife is so important.
We've seen that LGBTQ+ communities have a rich history of creating safe spaces where they can express themselves freely without judgment or prejudice. Inclusive venues provide a space for people to celebrate their identities, connect with like-minded individuals and form supportive networks.
Inclusive nightlife plays a crucial role in fostering acceptance and tolerance towards LGBTQ+ people. By providing an environment free from discrimination, these venues enable members of these communities to feel empowered, confident and accepted for who they are.
The significance of such spaces cannot be underestimated as they help tackle issues around mental health by providing support systems for individuals to navigate their lives as queer-bodied humans within society at large.