When it comes to dating, transgender couples and singles deserve the same opportunities for romance as anyone else. Whether you're in a new relationship or looking to spice things up with your long-term partner, planning a great date can be the perfect way to connect and create lasting memories. In this article, we've compiled a list of 100 romantic date ideas to inspire passion and love.
First Date Idea: Start with the Classics
For a classic first date, consider going to a romantic restaurant for dinner and a movie afterward. This offers the couple the opportunity to get to know each other while enjoying a delicious meal. To make it even more fun, trans couples can go horseback riding before dinner, or roast marshmallows and make smores afterward.
Date night ideas for couples can be both fun and romantic, and this classic date combines the best of both. For those looking for more unique and exciting romantic date ideas, there are plenty of other options. Going to a museum, playing mini golf, or even a picnic in the park can all make for a perfect date.
No matter what the couple chooses to do, spending quality time together is the best way to ignite passion and love on a date night together.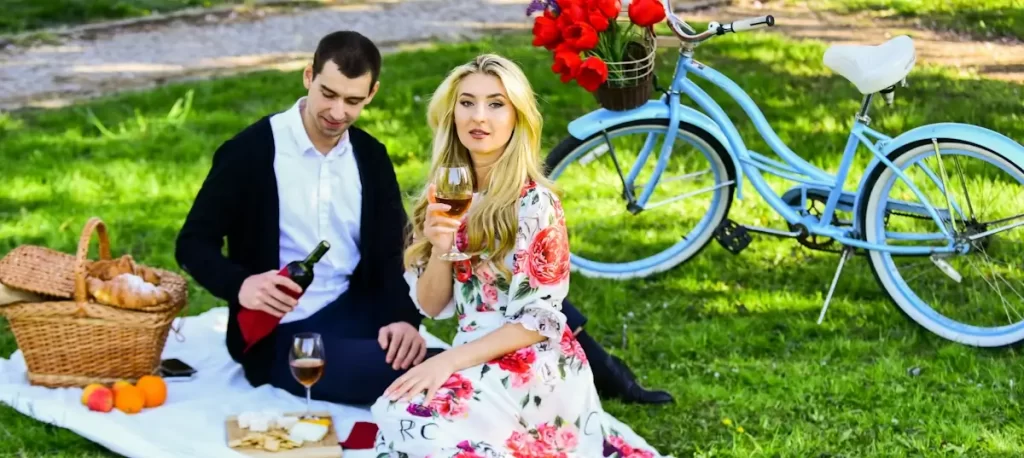 1. Classic Dinner and a Movie:
Start off your evening by enjoying a delicious dinner at a cozy restaurant followed by catching the latest blockbuster film at your local cinema. This classic date idea is timeless for a reason – it allows you both to relax, get to know each other better over good food, and enjoy some entertainment together.
2. Sunset Beach Walk:
Take advantage of nature's beauty by going on a romantic beach walk during sunset. As you stroll hand-in-hand along the shoreline, watch as the sun paints vibrant colors across the sky, creating an enchanting setting for heartfelt conversations.
3. Art Gallery Visits:
Indulge in culture by visiting an art gallery together. Appreciate various forms of artistic expression while engaging in meaningful discussions about different pieces that catch your attention. This fun idea is not only intellectually stimulating but also provides an opportunity for deep conversations.
4. Park Picnic:
Pack up your favorite snacks and find a picturesque spot in your local park where you can lay out blankets or set up a small picnic table under shade trees. Enjoy each other's company as you savor delicious treats surrounded by beautiful scenery.
5. City Tour:
Explore all that your city has to offer by embarking on a self-guided tour together! Visit historical landmarks, discover hidden gems tucked away in bustling neighborhoods, or simply wander through charming streets hand-in-hand.
6. Visit the Zoo:
Plan a memorable day at the zoo, where you can admire exotic animals, bond over a shared fascination with wildlife, and even have a picnic lunch in dedicated areas. This date idea is both educational and tons of fun.
7. Attend a Local Concert:
Experience the magic of live music together by attending a local concert featuring your favorite genre or artist. Dance, sing along, and let the enchanting melodies create an unforgettable romantic night filled with joy.
8. A Day at the Museum:
Immerse yourselves in history or art by spending an entire day exploring museums in your area. Discover fascinating exhibits side by side while engaging in thoughtful conversations about what you've learned.
9. Wine Tasting at a Vineyard:
Visit a nearby vineyard for a wine-tasting adventure. Sip on various wines while learning about different flavors and pairing recommendations from knowledgeable sommeliers. This sophisticated date idea is perfect for wine enthusiasts.
10. Attend a Cooking Class Together:
Put your culinary skills to the test as you attend a cooking class together! Learn new recipes under expert guidance while bonding over shared laughter and delicious food creations. This interactive date idea allows you to unleash creativity in the kitchen.
Fun Date Ideas: Break the Routine
Breaking the everyday routine can be a great way to increase excitement and connection in a relationship. To keep the romance alive, couples should try new and exciting date night ideas. One of the most romantic is to order room service and stay in for a staycation. Cute date ideas like making a playlist, playing a little game, or watching the sunrise together can bring couples closer. For a list of fun date ideas that are sure to elicit laughter, plan a date night with your sweetie and make it even more special.
Use your imagination and make it extra special by opening a bottle of wine, ordering your favorite take-out, or grabbing your favorite dessert. If you have two left feet, you can always just watch a movie together. Watching the sunrise is one of the most romantic dates ideas ever. For those with a faint of heart, the tried and true dinner and a movie date is a great way to connect with your partner. Another date night idea is to go to one of your favorite places together or plan something to work toward.
Getting out of your comfort zone is a sure way to bring couples closer. Make sure to use your imagination and have fun with it. For those looking for a list of the best romantic date ideas, check out our list below. These are sure to bring the romance alive and ignite passion and love.
11. Roller Skating Rink Adventure:
Lace-up those roller skates and relive childhood memories as you glide across the rink hand-in-hand with your partner! Enjoy friendly competition or simply skate around together to create lasting moments of laughter
12. Scavenger Hunt:
Spice things up with an exciting scavenger hunt where each clue leads to another until you reach the final surprise destination – perhaps even discovering hidden parts of your city along the way!
13. Trampoline Park:
Release your inner child by bouncing around together on trampolines at a nearby park dedicated solely to this exhilarating activity. Jump into foam pits, play dodgeball, or challenge each other to epic flips!
14. Arcade Game Night:
Indulge in nostalgia by spending a fun-filled evening at an arcade. Play classic games like Pac-Man, and Skee-Ball, or challenge each other to air hockey matches. Let your competitive spirits shine as you make new memories.
15. Bike Riding around the City:
Rent bicycles and explore your city from a whole new perspective! Pedal along picturesque paths, discover hidden gems and stop for refreshments at charming cafes or parks along the way.
16. Attend a Dance Class Together:
Put on your dancing shoes and join a dance class where you can learn various dance styles such as salsa, tango, or hip-hop together. Embrace the rhythm as you twirl around on the dance floor and get closer through synchronized movements.
17. Go-Kart Racing:
Feel the adrenaline rush as you compete against each other in go-kart races. Rev those engines and push yourselves to reach top speeds while enjoying the lighthearted competition.
18. Visit an Escape Room:
Test your problem-solving skills by visiting an escape room together. Work as a team to unravel puzzles, find hidden clues, and race against time to escape themed rooms – guaranteed excitement awaits!
19. Experience a Hot Air Balloon Ride:
Soar above the clouds hand-in-hand during a breathtaking hot air balloon ride. Witness picturesque landscapes from new heights while cuddling close to your loved one for an unforgettable adventure that will take romance to new heights.
20. DIY Paint and Sip Night at Home:
Create the perfect ambiance for creativity by setting up paints, canvases, and brushes, and pouring two glasses of wine – then let yourselves flow paint brushstrokes onto canvases together while sipping delicious wine pairings that complement your artistic journey.
Romantic Date Night Ideas: Way to Connect
Spending quality time together is one way to strengthen the bond between couples and create meaningful connections. Going on romantic date nights is a tried and true way to bring couples closer and reignite the passion and love between them. A great way to connect is to set a date for a special night for just the two of you and make a playlist of your sweetie's favorite songs.
It's the perfect way to spend time with your partner. Use your imagination to come up with the next romantic date night idea. There are so many fun and creative activities to choose from. With a little bit of effort, your date night will be sure to bring you closer together and keep the passion and love alive.
21. Romantic Candlelit Dinner at Home date:
Set the mood for an intimate evening by preparing a romantic candlelit dinner date at home. Cook your favorite dishes together, dim the lights, and create a cozy atmosphere with soft music playing in the background. This date idea allows you to focus on each other and enjoy quality time.
22. Watching the Sunset Together:
Find a scenic spot where you can watch the sunset hand-in-hand with your partner. As day turns into night, take in the breathtaking colors of the sky while sharing heartfelt conversations or simply relishing in peaceful silence.
23. Romantic Scenic Drive:
Plan a romantic scenic drive where you can explore picturesque routes and take in stunning views along the way. Create a playlist of your favorite songs to set the mood as you embrace adventure and connect through uninterrupted conversation.
24. Ideas for married couples - Spa Night at Home:
Transform your home into a tranquil oasis by setting up DIY spa treatments for both of you to enjoy. Take turns giving each other massages, applying face masks, or soaking in warm baths filled with aromatic oils – this luxurious date idea will leave you feeling relaxed and rejuvenated.
25. Book a Romantic Getaway:
Escape from daily routines by planning a romantic getaway together. Whether it's booking a cozy cabin in nature or staying at an elegant hotel overlooking breathtaking scenery, the change of environment can reignite passion and create lasting memories.
26. Recreate Your First Date:
Take yourselves back to where it all began by recreating your first date! Return to that special place, order similar food, dress up, and reminisce about how far you've come as individuals and as partners.
27. Fun date ideas for couples - Photo Shoot:
Capture precious moments together with a fun couple photoshoot! Hire professional photographers or grab hold of your cameras & phones, and take fun poses that represent who you are as individuals coming together as one unit creating beautiful physical memories forever cherished
28. Create a Love Map Together:
Grab a large map of your city, country, or even the world, and mark all the places that hold special meaning to your relationship! Share stories about each spot and dream about future adventures you want to embark on as a couple.
29. Write Love Letters to Each Other:
Take time apart in separate rooms or even just sit across from each other at a cute cafe with a cozy ambiance. Bring out pen and paper then pour your heart out in love letters addressed to one another. Share your deepest feelings, express gratitude for one another, and let words ignite the flame of romance.
30. Attend a Romantic Concert Together:
From classical symphonies to intimate acoustic performances, enjoy an enchanting evening together by attending romantic concerts that resonate with both of you. Immerse yourselves into mesmerizing tunes that evoke emotions while creating new memories together
At-Home Date Night Ideas: Cozy fun date ideas at home
Couples can enjoy cozy and fun date nights at home by exploring creative activities together. By keeping the romance alive with an at-home date night, couples can make it an exciting event and give themselves something to work toward. Bonus points if there is a list of the best at-home date night ideas that can be used.
Some of these ideas include ordering room service and having a romantic dinner, watching the sunrise together, or playing one of your favorite board games. Making it extra special can also include dressing up, having a picnic in the living room, or having a movie marathon. With these at-home date night ideas, couples can keep the spark alive and enjoy spending quality time together.
31. Cook Dinner Together:
Make cooking dinner more than just preparing meals - transform it into quality time spent together. Choose recipes you both enjoy, don aprons, and create delectable dishes as a team. Complete it by savoring the flavors over candlelight and a bottle of wine,
32. Indoor date ideas - Camping:
Pitch tents indoors, set up sleeping bags or blankets, pop microwave popcorn, and tell ghost stories under "constellations" created by sticking glow-in-the-dark stars onto the ceiling. This creative twist allows you to enjoy the camping experience while being cozy in the comforts of your home.
33. DIY Home Movie Theater:
Turn the living room or any vacant space into a private movie theater by setting up the projector, hanging curtains dim lights, and playing your favorite films. Pop bowls of freshly popped popcorn and snuggle together under a soft blanket for a cinematic experience within reach and in your comfortable own home!
34. Board Game Night:
Indulge in an exhilarating night filled with board games and card challenges. Enjoy the infectious laughter and rich bonding experience as you navigate through different games together. Amplify the excitement by adding enticing prizes or organizing a playful tournament with family and friends.
35. Home Gardening Project:
Find unity in the captivating charm of nature by initiating a home gardening project. Opt for a variety of plants, flowers, or herbs that suit your available space. Relish the shared responsibility of nurturing your green companions and witness them flourish under your care.
36. DIY Cocktail Night:
Unleash your inner mixologist with a DIY cocktail night at home! Start by researching tantalizing recipes, gathering ingredients from your liquor cabinet, and setting up an impressive, decked-out bar. Then, engage in a friendly competition, where each of you strives to mix the most delectable drink.
37. Indoor Picnic:
Arrange a charming indoor picnic by spreading out plush blankets and an array of mouth-watering snacks and finger foods. Complement this intimate dining experience with a soothing acoustic music playlist and cap off the evening stylishly with some fine wine.
38. Shared Reading Time:
Choose a riveting novel or a cherished book from each other's collection and take turns reading chapters aloud. Engage in a captivating storytelling experience that lets your imaginations run wild. This cozy activity provides the perfect opportunity to relish quality time while delving into literary adventures, setting the mood for memorable bonding moments before bedtime.
39. Home Karaoke Session:
Channel your inner rockstar with a vivacious home karaoke night. Belt out your favorite tunes using a karaoke machine, or scour YouTube for lyric videos and employ streaming services like Spotify to enhance the experience. Stage an epic sing-off, dance your heart out and co-create unforgettable performances.
40. Indoor Dance Party:
Set the stage for an energetic indoor dance party by clearing some space in your living room. Cue up your favorite dance tracks on your sound system and give in to the rhythm as you let your dance moves flow freely. This fun-filled activity is an excellent way to shake off stress, deepen your bond with your partner, and revel in the joy of movement-based connection.
At-Home Date Night Ideas: Keep the Home Fires Burning
By engaging in activities that keep the home fires burning, couples can enjoy a cozy and exciting date night at home. Want to make it even more special? Check out our list of 100 romantic date night ideas to ignite passion and love.
Open a bottle of wine, play a little game, or get to know your partner better; these date night ideas are sure to elicit a romantic atmosphere. Plus, you may earn some bonus points for being creative! For an at-home date night that will ignite passion and love, try out one of these fun and romantic ideas.
41. Cook Dinner Together:
Transform your kitchen into a lively culinary stage where both of you play the leading roles. Select a favorite recipe or try something new, gather the necessary ingredients, and embark on a gastronomic journey together. This shared cooking experience offers a delightful blend of teamwork, skill, and flavor, enhancing your bond and leaving you with a delicious meal to enjoy.
42. Indoor Camping:
Bring the thrill of camping indoors. Set up a tent in your living room, scatter some pillows for comfort, dim the lights, and share ghost stories. Roast marshmallows over a stovetop, play campfire songs and bask in the unique indoor wilderness experience, which combines adventure with the comforts of home.
43. DIY Home Movie Theater:
Convert your living room into a private cinema. Prepare popcorn, dim the lights, and line up your favorite films or a new release. Nestle into a comfortable setup, enjoy the on-screen narratives, and let the cinematic atmosphere transport you into a world of fiction and fantasy.
44. Game Night:
Fuel a friendly competition by setting up a game night. Be it board games, card games, or video games, choose what brings out your playful sides. Engage in these games to not only entertain but also to test your strategic skills, fostering a fun, competitive spirit.
45. Home Gardening:
Create your own indoor green oasis. Whether it's potting some succulents, tending to an indoor herb garden, or arranging fresh flowers, this calming activity is a nurturing and fulfilling way to spend time together. It's a way to foster growth, both in your botanical endeavors and in your relationship.
46. DIY Cocktail Night:
Become mixologists for the evening. Experiment with different spirits, mixers, and garnishes to create your own signature cocktails. You can even have a friendly contest to see whose concoction tastes better. This mixology adventure can lead to fascinating flavors and many cheers!
47. Indoor Picnic:
Turn your living room into a quaint picnic spot. Lay out a blanket, pack a basket with your favorite picnic foods, and enjoy a leisurely meal in an unusual setting. It's a wonderful way to break the routine and enjoy a simple pleasure, right within the walls of your home.
48. Take Turns Reading a Book to Each Other:
Share the joy of storytelling by choosing a book to read aloud to each other. Whether it's a novel, poetry, or short stories, this activity fosters intellectual connection and allows you to appreciate literature from a shared perspective.
49. Home Karaoke Session:
Unleash your inner pop stars with a home karaoke session. Belt out your favorite tunes, perform duets, and enjoy laughter and applause. This activity not only tests your vocal cords but also creates an atmosphere of joy and encouragement.
50. Indoor Dance Party:
Turn up the music and let loose with an indoor dance party. You don't need to be a professional to enjoy swaying to the rhythm of your favorite songs. This fun-filled activity is a great way to shake off any stress, stay active, and deepen your bond through shared laughter and memorable dance-offs.
Unique Date Ideas for Couples: Unique and Memorable
When it comes to planning a romantic date night, couples should consider going beyond the traditional dinner and a movie. Unique experiences can be a great way to re-ignite the passion and love between partners. From outdoor activities to cozy at-home activities, there are plenty of unique date night ideas that are sure to be a hit.
For the faint of heart, there are plenty of activities that can be enjoyed without breaking out of your comfort zone. Some great examples include star-gazing, taking a bike ride through a scenic route, or visiting a nearby museum. For couples who are looking for a unique adventure, they can try a cooking class, a virtual escape room, or even a trapeze class. For bonus points, couples can try something completely out of the ordinary such as a hot-air balloon ride, a trapeze class, or a helicopter ride.
No matter what the activity is, it is important to make sure it is something that both partners will enjoy. With the right combination of activities, couples can create a night of memories that will last a lifetime.
51. Volunteer at a Local Shelter:
Make a difference together by volunteering at a local shelter or charity organization. Whether it's serving meals to the homeless, playing with animals at an animal shelter, or assisting in community projects, giving back can strengthen your bond while helping others.
52. Go to Drive-In Movie:
Experience the nostalgia of drive-in movies by finding a local drive-in theater where you can cuddle up in the car and enjoy a movie under the stars. Bring blankets, pillows, and snacks for added comfort.
53. Take a Language Class Together:
Embark on an exciting language-learning journey as you take classes together in a foreign language that interests both of you. Not only will you expand your knowledge but also have fun practicing conversations outside of class.
54. Go on a Photo Walk:
Grab your cameras or phones and explore your surroundings through photography! Take turns capturing candid moments, stunning landscapes, and unique perspectives during an adventurous photo walk around town or nature trails.
55. Visit Mystery Dinner Theater:
Step into a world of intrigue and entertainment by attending a mystery dinner theater event. Seek clues, solve crimes, and enjoy delicious meals whilst experiencing an unforgettable night filled with thrilling suspense and interactive storytelling.
56. Take Pottery Class Together:
Inspire each other as you allow your creative juices to flow in a pottery class. Experience the joy of shaping clay into stunning works of art while harnessing your imagination. Relish in shared moments of laughter and create lasting memories from malleable clay. Support each other's artistic journey, hand in hand, and let the art of pottery bring you closer.
57. Experience a Cultural Festival:
Dive into the vibrant tapestry of different cultures by attending local cultural festivals. Marvel at the rich traditions, savor exotic cuisines and dance to the beat of traditional music. These festivals provide an excellent opportunity for shared cultural discovery and appreciation, sparking curiosity and understanding about a world beyond your own.
58. Organize a Day Trip to a Nearby Town:
Take a break from the humdrum of daily life and plan a day trip to a charming nearby town. Delight in the adventure of exploring novel locations, museums, and activities that are unique to that place. Design an itinerary together and experience the exhilaration of a mini adventure. Break away from your usual surroundings and embrace the opportunity to explore new horizons as a couple.
59. Go Berry Picking or Apple Picking:
Enjoy some wholesome fun by going berry picking or apple picking at a local orchard. Spend time in nature as you gather delicious fruits together – and don't forget to indulge in the tasty rewards!
60. Make Your Own Pizza Night:
Put your culinary skills to use and have fun creating homemade pizzas! Set up ingredients, including various toppings and sauces, then let yourselves get creative as you design personalized pies before baking them together.
Double Date Ideas: Invite Your Friends and do something new together
Inviting friends along for a double date can be an excellent way to introduce something new to multiple people simultaneously. It can provide a unique opportunity for couples to bond and share experiences together with their friends.
Double dates can be a great way to explore a new activity or restaurant together, allowing couples to share the excitement of discovering something new. Moreover, double dates can be a great way to build relationships between couples and their friends, forming a strong connection that can create lasting memories. There are many fun and creative double-date ideas, ranging from outdoor adventures to creative cooking classes.
From paddle boarding to painting classes, there are endless possibilities for couples looking to add a little bit of excitement to their date night. Inviting friends along can be a great way to add a spark to a romantic evening and create lasting memories.
61. Group Cooking Challenge:
Gather another couple or a group of friends for a friendly cooking challenge! Set a theme, assign different dishes to each pair, and have fun creating delicious meals. Once you're done, come together to enjoy the feast you've prepared.
62. Themed Movie Marathon:
Plan a themed movie marathon with another couple. Choose a genre or series that everyone enjoys and take turns hosting movie nights complete with themed snacks, popcorn, and cozy blankets for an entertaining double date experience.
63. Double Date Game Night:
Invite another couple over for an exciting game night filled with laughter and friendly competition. Choose from classic board games, charades, pictionary, trivia, or even multiplayer video games. Enjoy some healthy rivalry while strengthening your bond as a couple.
64. Embark on an Adventure Hike:
Together, embark on a breathtaking hike along picturesque trails. Invite another couple to accompany you on this adventure into the great outdoors. Capture the beauty of sprawling landscapes and share inspiring moments as you navigate challenging terrains, all the while reveling in each other's company.
65. DIY Mini Olympics:
Organize your very own Mini Olympics by creating diverse challenges in your backyard or a nearby park. Invite another couple to join in the fun, competing in a range of exciting events—from relay races and inflatable obstacle courses to water balloon tosses and tug-of-war. Embrace the spirit of friendly competition and teamwork, making unforgettable memories in the process.
66. Home-based Wine Tasting:
Experience the magic of a winery at home by hosting a wine-tasting event. Collect an assortment of wines, use tasting notes to guide you, or create your own scorecards. Raise your glasses together, allowing the wine to flow freely as you discuss flavors and aromas. Pair the drinks with an array of cheeses or gourmet bites to further enhance the experience, ensuring everyone can participate without worry!
67. Host a Backyard BBQ Party:
Turn your backyard into a lively barbecue hub, inviting friends for a feast of grilled favorites. With a blend of mouth-watering aromas wafting through the air, good conversation, and a laid-back vibe, you can create an ambiance that fosters camaraderie and gastronomic satisfaction.
68. Construct a DIY Escape Room:
Unleash your creative and problem-solving skills by transforming a room in your home into a thrilling DIY escape room. Develop engaging puzzles and cryptic clues for everyone to decipher. This brain-teasing venture will not only stimulate your minds but also enhance your teamwork and cooperation.
69. Arrange a Potluck Dinner:
Organize a potluck dinner, inviting each guest to contribute their signature dish. This creates an array of diverse, homemade cuisines to try, caters to varying culinary preferences, and spreads the cooking efforts among everyone. Plus, it's a great conversation starter as people often have interesting stories behind their dishes.
70. Coordinate a Neighborhood Cleanup:
Take a proactive role in your community by arranging a neighborhood cleanup. Invite friends and neighbors to join you in this initiative. It's not only a wonderful way to contribute to the community but also an excellent opportunity to get to know your neighbors better while promoting a cleaner, healthier environment.
Creative Date Ideas: Spark Your Imagination
Exploring creative date ideas can spark imagination and excitement for couples looking to add variety to their relationship. A few examples include hosting a movie night with a themed menu, taking a painting class together, or even renting a tandem bike and exploring the city together. Each of these activities can provide the opportunity for couples to engage in stimulating conversation and share new experiences.
Other creative date ideas include creating a scavenger hunt for each other, playing a game of mini golf, or even taking a dance class. These activities can help couples learn more about each other, while also having fun in the process. No matter what activities couples choose, it is important to keep in mind that the main goal is to create an enjoyable and memorable experience.
71. DIY Art Project:
Unleash your creativity by embarking on a DIY art project together. Whether it's painting, drawing, crafting, or sculpting, embrace the opportunity to express yourselves artistically and create something meaningful as a couple.
72. Visit an Interactive Art Exhibit:
Immerse yourselves in interactive and immersive art exhibits that engage all of your senses. Explore installations that challenge perceptions and spark conversation while experiencing art like never before.
73. Create a Bucket List Together:
Sit down with your partner and brainstorm ideas for a shared bucket list. Dream big and set goals for adventures you want to experience together - from travel destinations to personal achievements - this activity will foster excitement and anticipation for the future.
74. Make a Home Video or Short Film:
Unleash your creativity by coming together to create a home video or short film. Collaboratively write a script, set up scenes, and play different characters. Capture and record special moments as you let your imagination soar. These cherished memories will be preserved forever, immortalized in your unique film.
75. Collaborative Songwriting:
Immerse yourselves in the power of music by writing a song together. Whether it's a romantic ballad or a feel-good anthem, this process allows you to express your feelings while creating a unique musical masterpiece. Share your creation with each other, or perhaps perform it live, celebrating the harmony of your bond.
76. DIY Jewelry Making:
Channel your inner artisans by embarking on a DIY jewelry-making journey together. Explore a myriad of materials from fabrics and charms to gemstones, and craft stunning necklaces, bracelets, or even custom-made rings. This creative endeavor is not only an enjoyable bonding experience but also results in exquisite accessories that showcase your shared artistic talent.
77. Poetry or Storytelling Night:
Immerse yourselves in the world of literature by attending a poetry or storytelling night. Listen to riveting performances, share your own stories or poems, and draw inspiration from the magic of the spoken word. It's a beautiful way to connect and get inspired together.
78. Scrapbooking Journey:
Celebrate your shared memories by creating a scrapbook together. Compile photographs, ticket stubs, cards, and other memorabilia, and get crafty as you navigate through your scrapbooking journey. Relive your precious moments together, adding personal style and unique touches to this tangible chronicle of love and laughter.
79. Local Craft Fair Participation:
Engage with your local creative ideas by attending a craft fair. Discover unique handmade creations, from jewelry and pottery to paintings and textiles. Support local artisans with each purchase, igniting your own creativity and opening your eyes to new forms of artistic expression.
80. Creative Writing Class:
Unleash your potential as a writer by enrolling in a creative writing class together. Engage your imagination through writing prompts and learn from industry professionals who share valuable insights and trade secrets. This shared journey into the realm of the written word will not only boost your writing skills but also foster a deep connection as you learn to capture and convey emotions together.
Cheap Date Ideas: Love on a Budget
The need to be creative with date ideas is not limited to those who have the means to spend lavishly. Even those on a budget can make use of their imagination to create an unforgettable and romantic evening. Cheap date ideas can be just as meaningful and romantic as expensive ones.
One of the most affordable and romantic date ideas is a picnic. Pack a basket with some of your favorite snacks and drinks, and head to a nearby park or beach for a picnic. Enjoy the beauty of nature and share some quality conversation with your special someone.
Another idea is to have a dinner and movie night at home. Make your favorite dinner together and then snuggle up and watch a romantic comedy or a favorite movie. You can also take a walk around your neighborhood, explore the shops, and grab a few snacks from the local stores. These date ideas are sure to ignite passion and love between you and your partner.
81. Window Shopping:
Take leisurely strolls around shopping districts, enjoying the sights of boutique storefronts and colorful displays. You don't have to spend a lot of money - simply revel in each other's company while appreciating the beauty of fashion and design.
82. Home Workout Together:
Stay active while spending quality time together without breaking the bank! Follow workout videos online, create circuits using household items as weights, or go for runs or walks around your neighborhood. This date idea is all about staying healthy and fit as a couple while having fun at home.
83. Visit a Free Museum or Art Gallery:
Many museums and art galleries offer specific days or times with free admission. Take advantage of these opportunities to explore cultural exhibits, admire the artwork, and spark intellectual conversations without spending a dime.
84. Stargazing in the Backyard:
Set up cozy blankets or lounging chairs in your backyard and spend an evening stargazing together. With a smartphone app or stargazing guidebook, identify constellations and share stories about the wonders of the night sky.
85. DIY Photoshoot:
Put your photography skills to use by organizing a DIY photoshoot! Find picturesque locations around your town or even within the comfort of your own home; take turns capturing candid moments and creating beautiful memories without hiring professional photographers.
86. Nature Walk or Hike:
Immerse yourselves in the tranquility of nature by taking a peaceful walk or hike through local parks, nature trails, and conservation areas. The serene surroundings will serve as the ideal setting for deep conversations and moments of connection, both with each other and with the natural world.
87. Community Volunteering:
Strengthen your bond and contribute to your community by volunteering together. Whether it's at charitable organizations, soup kitchens, hospitals, or local events, offering a helping hand allows you to make a meaningful difference while engaging in service-oriented activities as a couple.
88. Home Improvement Project:
Enhance your living space by undertaking a small home improvement project together. Whether it's a decor update, a room repaint, or assembling new furniture, these tasks allow you to work as a team, fostering cohesion while improving both your home and your relationship.
89. Attend Community Events:
Stay engaged with your community by checking out local listings for free events such as concerts, outdoor movie screenings, festivals, charity runs, and more. These events often offer entertainment, food vendors, cultural performances, and a chance to form deeper connections within your neighborhood, all without the financial burden.
90. DIY Potluck Dinner:
Host a DIY potluck dinner at home with friends or other couples. Everyone can contribute a homemade dish or beverage, accommodating various culinary preferences. This not only provides an array of delicious foods without excessive costs but also offers a festive setting to savor each other's culinary skills without the hefty restaurant bill.
Romantic Dinner Ideas: Love to Cook? Make the Night Special
Cooking a special meal for a loved one is a great way to demonstrate affection and appreciation. With a bit of creativity and some planning, a romantic dinner can be a memorable experience. A few essential elements of any romantic dinner include good food, good ambiance, and good company.
To make the dinner extra special, consider personalizing it to the tastes of the person you are cooking for. Think of their favorite drinks, foods, and music. Select a recipe that offers plenty of opportunity for conversation. You can also include a few romantic touches like a candlelit table, some flowers, or a homemade dessert. Being creative and thoughtful can make a romantic dinner a truly unique experience.
91. Cooking Together:
Transform an ordinary meal preparation into an intimate experience by cooking together. Choose a beloved recipe, gather the necessary ingredients, and enjoy the process of crafting a delicious meal while cherishing each other's company.
92. Indoor Candlelit Dinner:
Create a romantic atmosphere by setting up an indoor candlelit dinner. Dim the lights, light the candles, scatter rose petals on the table, and savor your favorite wine alongside an exquisite meal. Make the evening a truly memorable special occasion to celebrate your love.
93. Backyard BBQ Dinner:
Ignite the grill and savor a delicious BBQ dinner in your backyard. Marinate meats and vegetables, arrange cozy outdoor seating and create lasting memories under the stars as you relish the smoky flavors and aromatic ambiance.
94. Themed Dinner Night:
Indulge in a cultural or thematic dining experience with a themed dinner night. Be it a Mediterranean feast, an Italian pasta night, or a Hawaiian luau, prepare themed dishes, dress accordingly, and transform your home into an exciting culinary destination.
95. Cooking Each Other's Favorite Meal:
Demonstrate your care for each other by taking turns cooking each other's favorite meals. Whether it's a homemade pizza, lobster bisque, or a decadent chocolate dessert, enjoy the preparation and savor the taste, celebrating the mutual joy derived from shared culinary creations.
96. Recreate a Special Meal:
Revisit a special moment in your relationship by recreating a memorable meal, perhaps from a cherished vacation or an anniversary celebration. Remake all the elements of that memorable meal, and relive those heartwarming moments, fostering a nostalgic emotional connection.
97. New Recipe Challenge:
Challenge yourselves by trying a new recipe together. Pick a dish neither of you has tried before, gather the ingredients, and embark on a culinary adventure! Embrace fun discoveries and laugh over any kitchen mishaps while working together towards a shared goal.
98. Surprise Dinner Organization:
Plan a surprise dinner for your partner. Customize every aspect of the evening, from the menu to the decor. Begin with an elegantly set table, prepare their favorite dishes, dress to impress, and let your loved one experience the joy of a special night filled with love and surprises.
99. Cook a Cultural Dish Together:
Embark on a multicultural culinary journey within your own kitchen! Choose dishes from various cuisines, explore the fusion of flavors, or assemble beloved recipes from different countries. This activity not only broadens your culinary horizons but also sparks insightful conversations around traditions and memories.
100. Dine at a New Fine Restaurant:
Plan an evening out at an upscale, fine-dining restaurant in a new location. Opt for a place known for its exceptional cuisine and elegant ambiance. From making the reservation to dressing up and savoring gourmet food, this experience will create a sparkling occasion to form elegant, unforgettable memories at a new romantic venue.
A Deeper Dive: 10 Bonus Transgender Romantic Date Tips
It's truly remarkable that we've journeyed together through these comprehensive 100 dating tips tailored for transgender individuals. Each tip, no doubt, holds its unique charm and relevance. However, we understand that Trans dating, especially in the transgender community, can be complex and multifaceted. To ensure that you're thoroughly equipped, we're diving even deeper.
Now, we are excited to introduce a specially curated bonus section that delves into 10 additional pieces of advice. These are more nuanced, designed to provide further guidance as you navigate the vibrant and exciting world of transgender dating. Stay tuned, as these extra nuggets of wisdom could prove to be game-changers, refining your approach and helping you build more profound connections.
101. Reflecting on the Importance of Date Nights:
Take a moment to reflect on the significance of regular date nights in keeping your relationship strong and vibrant. Recognize that investing time and effort into planning romantic outings helps nurture your connection and keeps love alive.
102. The Value of Trying Something New Together:
Embrace the value of trying new experiences as a couple. Stepping out of your comfort zones, exploring unfamiliar territories, and creating shared memories through novel adventures can deepen your bond and rekindle your passion.
103. Nurturing the Connection through Shared Experiences:
Understand that shared experiences are powerful tools for building emotional connections. Engaging in activities together fosters communication, sparks joy, allows you to discover new aspects about each other, and strengthens your sense of partnership.
104. The Importance of Keeping the Spark Alive:
Acknowledge that relationships require ongoing efforts to keep the spark alive. Life takes its course, but prioritizing quality time, making an effort to plan special dates, and seeking ways to reignite passion will help maintain a loving and fulfilling relationship over the long run.
105.Understanding Each Other's Love Languages:
Understanding each other's unique love languages is pivotal to cultivating a deeply connected relationship. Learn what makes your partner feel cherished and supported, whether it be through words of affirmation, gifts, acts of service, physical touch, or quality time. Infuse these languages into your date nights, nurturing a romance that resonates with each individual's needs and desires, ultimately making both of you feel more appreciated and loved.
106. Champion Open Communication:
Open communication forms the bedrock of any robust relationship. Use your romantic date nights as an opportunity to foster a space for honest dialogue and deep bonding. Express your feelings, exhibit empathy, actively listen, and discuss both challenges and aspirations. Find strength in vulnerability and let open, sincere communication build an unbreakable connection.
107. Value and Respect Differences:
Appreciate the unique identities, backgrounds, and perspectives that each of you brings to the relationship. Honor each other's differences, respect divergent opinions, and value the diversity within your partnership. Celebrate what makes both of you distinctively special while fostering an environment of acceptance and support.
108. Prioritize Trust and Honesty:
Trust and honesty are key to constructing a solid relationship foundation. Trust fosters confidence, enables vulnerability, and encourages transparent communication. Let trust be the framework within which your love flourishes. Honesty is crucial to nourishing this trust; communicate openly and share truthfully - by doing so, you solidify your bond and fortify your connection.
109. Set Aside Regular 'Us' Time:
Ensure that regular date times are a non-negotiable part of your shared schedules. Dedicate this time to focus solely on each other, sharing intimate moments and undivided attention. This consistency shows mutual devotion and creates a stronger bond built on prioritizing love and connection amidst busy life responsibilities.
110. Embrace Transgender Dating and Romance:
Transgender dating deserves the same respect and enthusiasm as any other form of romance. Through thoughtful planning, any couple can enjoy a versatile array of bonding experiences, irrespective of gender identity or orientation. By embracing diversity, you nurture passionate and loving relationships. Transgender individuals are just as deserving of a fulfilling romantic life. Remember, love, knows no bounds.
Conclusion: Keeping the Love Alive with Those Romantic Date Ideas
Creating a unique romantic experience for a loved one is an excellent way to maintain a meaningful relationship. A thoughtful and planned date night can be just as meaningful as a spontaneous one.
From cooking a romantic dinner together to viewing a romantic movie, each date night should be focused on fostering a connection and igniting passion and love between partners. Additionally, a date night should be something that both partners look forward to. By being creative and considering each partner's interests, couples can enjoy a romantic and special night together.
Overall, the possibilities are endless when it comes to creating a romantic date night. Whether it is something traditional or something more unique, couples should make sure to keep the love alive by planning the perfect date night. With careful planning and thoughtful consideration, couples can keep the spark alive and create meaningful experiences that they will remember for years to come.