Trans Dating in Australia can be difficult, but it can be especially overwhelming for transgender women who are looking to find someone special. How can we make this process easier?
Fortunately, there is a way to meet transgender singles from Down Under with the use of online dating websites. In this article, we will discuss the best way to find and connect with transgender singles in Australia and provide advice on navigating these sites.
We will explore the different types of trans dating sites and apps in Australia available in 2023. As well as tips on how to approach potential dates in Melbourne, Brisbane, and Adelaide. Finally, we will look at what the future holds for transgender people and online dating sites.
Key Takeaways
Online dating sites provide a way for transgender singles in Australia to connect and find potential romantic partners in a safe and inclusive environment.
MyTransgenderCupid is a leading site that offers a premium dating experience, providing unique features that help users find compatible matches who share their values and beliefs about gender identity.
Safety and sensitivity to the diversity of gender identity and expression are essential when navigating the realm of trans dating in Australia.
Online dating platforms and sites are becoming increasingly popular, offering a powerful tool for creating a safe space for transgender individuals to connect with potential partners and promoting inclusivity and celebrating diversity among its members.
Embracing Trans and Transgender Date
The changing landscape of online dating has opened new doors for the transgender community. As a result, Australian trans people now have more options than ever before when it comes to finding companionship and love. Trans dating in Australia has been made easier with the growing availability of platforms dedicated to helping meet transgender singles from down under.
The Changing Landscape of Online Dating for Trans People
As transgender people increasingly turn to online platforms for finding companionship, a new landscape of dating opportunities has emerged. From gender-inclusive message boards and chat rooms to specific trans-dating sites, the internet is now a powerful tool for connecting trans men and women from all around Australia.
This newfound access to digital spaces provides LGBT individuals with an opportunity to find like-minded partners in their local area, as well as those living further away.
The rise of online dating not only offers more options for trans singles but also allows them to express themselves beyond the restrictions imposed by traditional dating norms.
Instead of worrying about being judged or misunderstood, trans people are now able to search for potential matches within their comfort zone – whether that be a romantic dinner date or a casual fling. This shift in attitude and technology presents an exciting new era of possibilities within the transgender dating scene in Australia.
Online Dating and TS Dating Sites: A New Era
Online dating has become increasingly popular in recent years, particularly among the Transgender community. With the emergence of specialized TS dating sites, individuals can now access a more tailored approach to finding potential romantic partners.
Through creating detailed dating profiles, users are able to build connections with people who share similar interests and values. This new era of online dating provides an opportunity for members of the Trans community to find love and acceptance without fear of discrimination or judgment.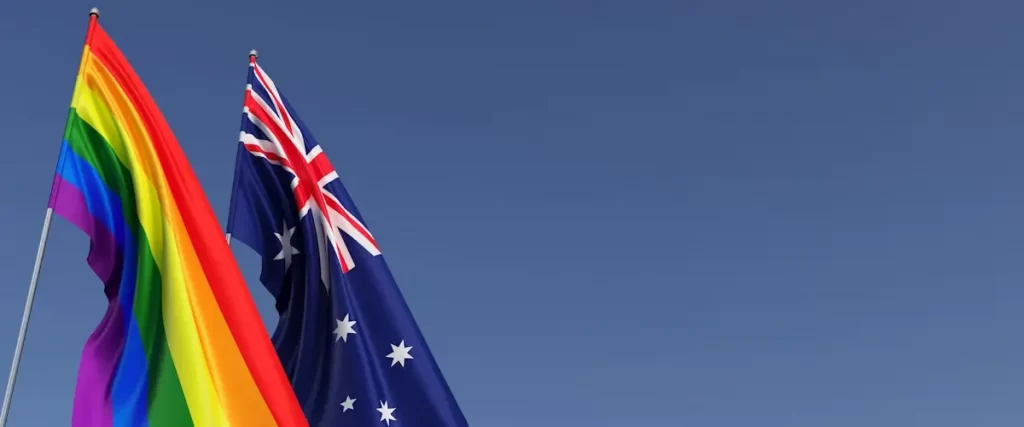 The Role of Dating Profiles in Building Connections
Navigating the dating world in Australia can be made easier by utilizing effective profiles to build meaningful connections. Dating profiles are crucial when it comes to finding the right match on a transgender dating service.
We manually verify every profile, ensuring that all members are looking for genuine companionship from someone who is familiar with their gender identity and lifestyle. Matchmaking tools available allow users to quickly discover singles who share similar interests and preferences. And you can extend your experience by choosing a premium membership.
This makes it easier for users to find compatible matches and build strong relationships without any unwanted surprises or fake profiles.
The importance of dating profiles becomes even more evident when considering the diversity of gender identities represented in LGBT communities in Australia. Dating services like MyTransgenderCupid provide users with an opportunity to state their exact needs and preferences, helping them make sure they are connecting with people who understand each other's unique experiences and situations.
By providing a safe, secure platform where people can learn about each other before meeting up, online transgender dating services offer an invaluable resource for building meaningful connections between individuals from diverse backgrounds.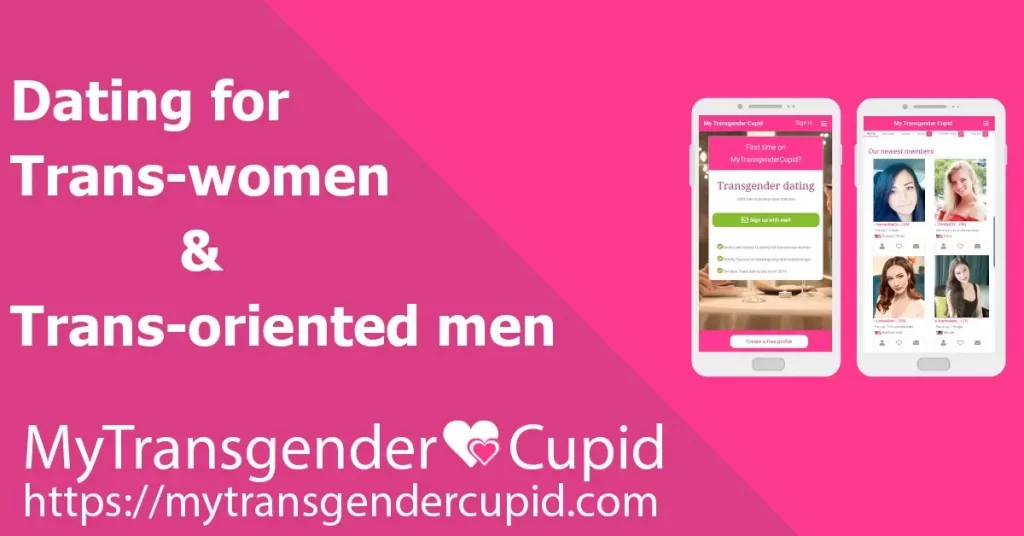 My Transgender Cupid: The Best Transgender Dating Site
Finding the perfect match can be a challenge, but online dating and transgender dating sites have made it easier than ever for people to find love. My Transgender Cupid is one of the leading sites offering decent dating for men or women.
My Transgender Cupid is leading the way in modern dating. Seamlessly integrating a personalized touch, it offers a safe and enjoyable platform for transgender singles in Australia. The ultimate goal? To help them find their perfect partner. Uniquely, it's among the sites that cater to the needs of this diverse community, creating a comfortable and supportive space for finding love. Truly, with MyTransgenderCupid, each dating experience is tailored to ensure genuine connections and profound relationships.
TS-Dating for Transgender Women & Respectful Men
TS dating is revolutionizing the dating scene in Australia. On MyTransgenderCupid, trans women and respectful men come together to forge meaningful connections. Initially, creating a compelling profile is the first step. After all, a well-constructed profile allows individuals to express their genuine selves.
Consequently, interactions on the platform are more authentic and respectful. Our dating services are structured to promote understanding and respect between all members. Gradually, this fosters a positive dating environment for trans women and their potential partners. Ultimately, MyTransgenderCupid is not just about finding a date; it's about creating a space where trans women and respectful men can find love and acceptance.
Meeting the Trans Woman: A Guide to Online Trans Dating Sites
Transgender dating sites can provide an opportunity to create meaningful connections with trans women, but it is important to do so in a respectful and mindful way. It is essential that all users of the site exhibit sensitivity to the diversity of gender identity and expression.
Additionally, it is important for users to be aware of their own biases and expectations when interacting with transgender individuals on the site. Finally, being open-minded and engaging in honest conversations that promote mutual understanding can help ensure that everyone has a positive experience while using online trans dating sites.
Ensuring Respectful and Meaningful Connections
Creating respectful and meaningful connections is essential for the transgender community in Australia. The struggle of transgender Australians to find supportive dating environments underscores the critical role of dedicated platforms. These specialized spaces provide not just a dating opportunity, but also a haven of acceptance and understanding.
In essence, the need for an inclusive and accepting dating scene has never been more apparent, confirming the essential role of platforms that foster genuine connections. Truly, a more supportive environment can make all the difference in navigating the dating world.
To ensure these connections are made in the most respectful manner, there are a few key elements needed: finding the right person for you, having access to chat and date people for free, and being able to send and receive messages securely. By adhering to these elements, dating a trans individual in Australia can be done with confidence and open-mindedness. With this knowledge at hand, we can move forward confidently into our next topic.
Best Trans Dating Practices: Navigating Dating Websites
Navigating the online dating scene can be challenging, especially for transgender singles looking for an authentic connection. To ensure safety and authenticity, it is important to understand best practices when interacting with potential partners through dating websites. This article will explore the importance of emphasizing safety and authenticity in trans dating by exploring the available resources on online dating sites.
Emphasizing Safety and Authenticity in Trans Dating
Finding a secure and authentic connection when navigating the realm of trans dating in Australia can be both challenging and rewarding. As more people look to date outside their gender or make friends with those who identify as a shemale or other gender options, it is important to prioritize safety while also being open-minded and empathetic.
This is especially true for those looking for a trans partner in Australia, where there may be stigmas associated with dating a transgender person. It is essential to create an environment that encourages honest communication and understanding so that all parties involved feel comfortable with the process.
By doing this, potential matches can make sure they are on the same page about expectations before meeting up, reducing the chances of any awkwardness or hurt feelings down the line. This helps ensure an enjoyable experience for everyone involved and promotes long-term success in TG dating in Australia.
Single and Ready to Mingle: Trans People Looking for Love in Sydney
Sydney, Australia is a city renowned for its vibrant nightlife and unique culture. A closer look reveals that the city also has a welcoming community with many singles looking for love. For those exploring their gender identity, trans dating in Sydney offers the perfect opportunity to discover what it means to be trans in a safe and supportive environment.
A Glimpse of Sydney's Welcoming Trans Community
As one of the most welcoming cities for transgender individuals, Sydney's trans community offers an inspiring glimpse into a thriving and supportive atmosphere. From MTF to shemale, the vibrant diversity of the city's trans population is matched by its acceptance and inclusivity.
For those seeking a transgender partner, Sydney is home to some of Australia's most successful dating sites for finding love or simply connecting with like-minded people. The city also hosts numerous events such as meet-ups and support groups that provide a safe space for both singles and couples alike who are looking to explore their identity or build relationships within the local trans community. With so much on offer, it's no wonder Sydney remains one of Australia's top destinations for those seeking companionship, understanding, and acceptance.
Transitioning seamlessly into our next section about 'Finding Friends or Relatives: The Perth Experience', we'll look at how Australians in Perth are connecting with each other through new avenues to discover friendship, family, and community ties.
Finding Trans Friends or Relatives: The Perth Experience
Connecting with the Community in Perth can be a rewarding experience. Those seeking companionship, support, or family members will find that Perth offers an affirming and inclusive environment to explore these possibilities. With its many resources and vibrant social life, people interested in connecting with trans individuals have plenty of options available.
Connecting with the Trans Community in Perth
Perth is home to a vibrant and welcoming transgender community, offering individuals the opportunity to connect with one another in meaningful ways. For example, cross-dressers can find potential matches on numerous apps and sites in Australia, while those looking for a casual flirt may feel at ease in Perth's social spaces. Furthermore, people can also access support networks or counseling services to help them navigate the ups and downs of trans dating in Perth.
Connecting with others in Perth can be an invaluable experience for transgender singles who want to expand their social circles. Here, they have the opportunity to meet like-minded people who understand the unique issues faced by members of the community. This allows them to create meaningful connections without worrying about judgment or stigma from society at large.
Ultimately, these connections offer users a sense of belonging that many have been seeking for years. Transitioning into the subsequent section about 'people with different sexual orientations: dating in Melbourne', it is clear that Australian cities provide safe havens for LGBTQ+ individuals who wish to explore their options when it comes to finding romance or friendship.
People with Different Sexual Orientations: Dating in Melbourne
Melbourne prides itself in its progressive approach to dating and inclusivity, with a deep respect for individuals of all sexual orientations. This welcoming atmosphere has made it an ideal destination for people seeking relationships outside of the traditional, heteronormative framework. The city is increasingly becoming a place where those who identify as LGBTQ+ can feel safe and comfortable exploring their romantic desires without fear or judgment.
Melbourne's Progressive Approach to Dating and Inclusivity
In the Australian city of Melbourne, a progressive approach to inclusivity and dating is reflected in recent statistics which show that transgender singles make up about 13% of the population. This has allowed for greater freedom and acceptance for those who identify as transgender:
There are more opportunities for social activities such as LGBT+ clubs and other events where members can meet people with similar interests.
It is easier to find places to live without fear of discrimination and marginalization based on gender identity or sexual orientation.
Companies are increasingly recognizing the value of employing individuals from diverse backgrounds, including those who are transgender or intersex.
The city also provides resources for health care, mental health services, legal advice, support groups, and advocacy organizations specifically tailored toward the needs of the community.
This progressiveness has enabled an environment where individuals feel comfortable expressing themselves authentically while finding meaningful connections with others. Such a supportive atmosphere makes it possible for transgender singles in Melbourne to explore their own desires when it comes to dating without fear of judgment or prejudice. With this in mind, it's not surprising that Brisbane is becoming an increasingly popular destination for LGBTQ+ and trans daters looking for a safe space to connect with like-minded people.
LGBTQ and Trans Dating in Brisbane
Brisbane is a popular destination for those of different sexual orientations and gender identities. As such, it is important to understand the unique dynamics of Brisbane's LGBTQ and trans dating scene.
This includes familiarizing oneself with the city's various options for socializing, understanding local norms, and appreciating its diverse environments. Understanding these factors can help create a more positive experience when engaging in LGBTQ or trans dating activities in Brisbane.
Understanding Brisbane's Trans-Friendly Dating Scene
Navigating Brisbane's trans-friendly dating scene can be a complex experience, but with the right guidance, it is also rewarding. For those looking for casual relationships, apps and sites like MyTransgenderCupid provide a safe platform to meet transgender singles from around Australia.
If you are looking for a man or ladyboy (A term commonly used in Asian countries) or simply just curious, there are plenty of ways to find that special someone in no time. Many people find it helpful to think about what they would like out of their first date before approaching anyone online. That way, you can make sure both parties feel comfortable and have something meaningful to talk about once you meet up.
Platforms
Advantages
Disadvantages
Trans dating sites and apps
Quick & Easy Setup
Safety & Security
Limited User Base
Shallow Profiles
Events & Meetups
Variety of Options
Wide Range of People
Time-Consuming Process
No Guarantee on Quality
From apps and sites to events and meetups, understanding the options available will help ensure a smooth transition into Brisbane's trans-friendly dating scene. With the right approach, singles can easily find true love without sacrificing their safety and security.
Adelaide: Meet Transgender People on a Dating App
Adelaide is a city that has seen an increase in the popularity of dating in recent years. This rising trend, which is likely due to greater acceptance and understanding of gender fluidity among the general population, has led to more people seeking out transgender partners than ever before. As a result, online dating applications have become increasingly popular as they offer a convenient way for singles to find compatible matches in Adelaide or anywhere else in Australia.
The Rising Popularity of Trans Dating in Adelaide
In recent years, trans dating in Adelaide has experienced a surge in popularity as more and more individuals choose to embrace their true selves. As the acceptance of gender diversity grows, so does the number of people looking for other women and men who share similar views and values.
With so many options available today, it is easier than ever for someone to go on a date with someone who identifies as transgender. Whether you are looking for ladyboys or just want to have an open-minded conversation, there are apps that can help you find just what you're looking for. You can easily start chatting with someone from Adelaide who understands your journey and can provide support along the way.
The increasing acceptance of transgender people in Australia shows no signs of slowing down anytime soon, which means that trans dating will continue to be popular amongst those seeking relationships built on trust and understanding. The rise of online dating sites also helps make it easy for those seeking companionship to connect with like-minded individuals who respect their boundaries and value their identity. By providing a safe space where transgender people can meet each other without judgment, these sites are helping create a brighter future for all Australians.
Unveiling the Spectrum: A Deep Dive into Australia's Gender Diversity
Firstly, let's take a moment to appreciate the diversity that makes up the vibrant fabric of our society. In the 2016 Australian Census, a significant number of individuals identified themselves outside the traditional binary genders. This pie chart, titled "Gender Diversity in Australia: A Closer Look", beautifully encapsulates the variety of gender identities reported.
As you can see, a substantial 34.9% of the respondents identified as "Other not further defined", showcasing the vast array of unique identities that people hold. Following closely, 18.1% of individuals identified as "Another gender", and 17.3% identified as "Non-binary".
Next, we see that 13.2% of respondents identified as "Transgender not elsewhere classified". This was followed by 7.5% identifying as "Trans female", and 5.5% as "Trans male". Lastly, 3.2% of respondents identified as "Intersex/Indeterminate".
In conclusion, this data underscores the importance of recognizing and respecting the diverse spectrum of gender identities in our society. It's a testament to the evolving understanding of gender in Australia and the world at large.
(Source: abs.gov.au)
Conclusion: The Future of Transgender People and Online Dating Sites
The future of transgender rights, gender inclusivity, and online dating sites is one that is increasingly hopeful. More and more people are recognizing the importance of celebrating diversity and allowing those from different backgrounds to express themselves without fear of discrimination.
In this way, online dating sites can be seen as a powerful tool for creating a safe space for transgender individuals to connect with potential partners in an environment that celebrates their identity and encourages acceptance. As such, it is essential that these platforms are designed in a way that fosters openness, understanding, and respect.
Celebrating Diversity and Inclusivity in the Dating Scene
Dating can be an incredible opportunity to express and embrace individuality, celebrate diversity, and foster inclusivity. With this in mind, many dating sites have begun to cater to the specific needs of different communities. This applies especially to those seeking serious relationships with transgender singles from Australia. Online dating sites that allow users to meet transgender individuals are becoming increasingly popular as they provide a safe space for members of the LGBT community.
These websites often feature various available features such as detailed profiles, video calls, and interactive chats which further enhance the user experience by promoting inclusivity and celebrating diversity among its members.
By using these platforms, comfortable conversations can be had with other singles who may share similar experiences or interests while avoiding uncomfortable situations that could arise when meeting face-to-face. Ultimately, these online dating sites are advocates for embracing individual uniqueness and creating an accepting atmosphere for everyone involved.