Delete conversations
Did you send a message to someone, but it appears that the shown interest is not mutual? Unfortunately!:
Or do you have any other reasons to delete a message?
How to delete a conversation
1. Click on the Inbox button at the top of the page


2. Hover your mouse cursor over the conversation you wish to delete until a Trash-can appears:


3. Click on the 'Trash-can' icon and confirm it.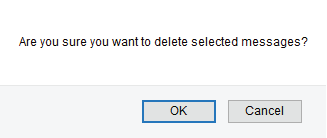 If you have any questions, you can always contact our customer service. We can be reached 24/7 by using the contact form
If you want to read this explanation again at your convenience, then click here to download the PDF file
Back to top